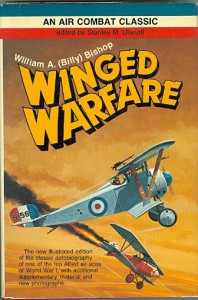 This is a fantastic story of the combat career of one of the top Allied fighter aces of the First World War: Billy Bishop. Bishop had initially served in the Canadian Army before transferring to the Royal Flying Corps (RFC) in 1915. He first trained as an observer and served in France with No. 21 Squadron, a photo-reconnaissance and artillery-spotting unit, during 1916. He later retrained as a pilot and returned to France in February 1917 with No. 60 Squadron, flying the Nieuport 17 fighter. Bishop had arrived in France at a time when the life of an RFC pilot at the Front could be measured in but a few weeks. The Germans, with their Albatros DIII fighter, and top units like Jasta 11, commanded by the Red Baron, Manfred von Richthofen, were taking the measure of the RFC and establishing air supremacy over the Front. So much so that by April 1917, the RFC suffered a casualty rate that was 4 times that of the Imperial German Air Service.

Yet, in spite of the hazards he had to face in learning his trade as a fighter pilot, Bishop persevered. Indeed, on one of his patrols over the Front, his squadron tangled with the Red Baron's unit, Jasta 11. Bishop himself battled with von Richthofen and even managed to put a few holes in his machine. It proved to be an inconclusive combat for both men, who didn't meet in battle again.

Later in the war, Bishop was given his own command with No. 85 Squadron, Royal Air Force (RAF), which flew the S.E.5A, one of the top fighters of the war. Within the space of a month - May 22 to June 19, 1918, Bishop shot down 25 German planes, bringing his final victory tally to 72. He finished the war as a Lieutenant-Colonel, "Officer Commanding-designate of the Canadian Air Force Section of the General Staff, Headquarters Overseas Military Forces of Canada."

Bishop speaks plainly in 'Winged Warfare' of his combat experiences, so much so that the reader will feel him/herself a part of the action. He also provides the reader with his philosophy of combat flying and tactics that makes the immediacy of the pressures of combat that much more tangible. A terrific book, this.