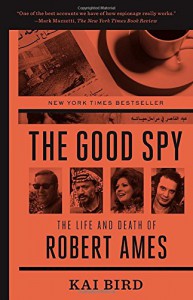 "THE GOOD SPY: The Life and Death of Robert Ames" is a book with a dual character which tells a history of U.S. diplomatic and espionage activities in the Middle East during the Cold War. First, it is a story about a most remarkable CIA officer, Robert Ames, who devoted the whole of his 23 year career in the Middle East to helping develop and secure peace in that troubled region through engaging with the Palestine Liberation Organization (PLO) at a time when the U.S. disavowed any contacts with it. And it is also a story of the evolution of U.S. Middle East policy between the 1960s and the early 1980s.

Reading "THE GOOD SPY" rekindled some of my earliest memories of the Middle East from the 1970s. And for that reason, it was both refreshing and a much appreciated learning experience to receive from Kai Bird fuller accounts and analyses of events as diverse as the Black September murders in Munich during the 1972 Summer Olympics; the outbreak of the Lebanese Civil War in 1975; the courage Egyptian President Anwar Sadat displayed in his attempts to make peace with Egypt's erstwhile enemy, Israel, which culminated in the Camp David Accords of 1979; and the 2 tragic events of 1983 in Lebanon which profoundly altered the U.S. approach in dealing with what is now (as was then) a seemingly intractable conundrum in the Middle East.

"THE GOOD SPY" is a book I recommend to anyone who wants to understand why efforts to obtain peace in the Middle East have proved illusory since 1948. It also gives the reader insight into the sincere efforts of Bob Ames (he was one of the CIA's premiere Arabists who spoke fluent Arabic and loved the people of the Middle East and its varied cultures) to help provide a platform from which Israelis and Palestinians could establish ways of peaceful coexistence and reconciliation - and the realization of the 2-state solution and a lasting peace.