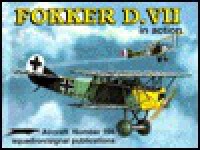 Here is a slim book about one of the most remarkable fighter planes to see action during the final year of World War I - Germany's Fokker DVII. This is a book that will appeal to any aviation fan as well as model plane aficionado. Every page contains a rich and varied collection of photos and illustrations, detailing the various versions of the Fokker DVII.

By war's end, the Fokker DVII had established such an outstanding reputation on the Western Front that the Allied Powers specifically requested under Article IV of the Armistice terms that all remaining Fokker DVIIs under German control be handed over to them. Belgium received the bulk of these fighters. But other nations - Poland, France, Switzerland, the Soviet Union, Finland, and the United States - received many other Fokker DVIIs as well and put them to various uses in the early postwar years.

This is a highly informative and easily readable book that can be read at leisure in a couple of hours.