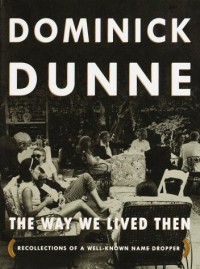 "The Way We Lived Then: Recollections of a Well-Known Name Dropper " is a photographic scrapbook of the author's life, as well as a startlingly candid chronicle scanning from the early post-World War II era to the 1990s.

Dunne, whom I first became aware of during the O.J. Simpson trial (which he covered as an investigative journalist), takes the reader through his life, from a brief telling of his early life in an Irish-American Catholic family in an overwhelmingly WASP society in Connecticut through his combat service in Europe with the U.S. Army during World War II (earning the Bronze Star for bravery in the Battle of Metz) and postwar education at Williams College.
After graduating from Williams, Dunne went to New York, where he worked as a stage manager for television during its pioneer era. While in that capacity, Dunne renewed his acquaintance with Gore Vidal, whom he had first met in Guatemala in the late 1940s (where he had also been introduced to Anaïs Nin with whom he had a brief, flirtatious relationship). Dunne became an established stage manager for some of the popular TV shows of the early 1950s (e.g. The Howdy Doody Show), and married in 1954.

Before the end of the 1950s, Dunne had moved to Hollywood at the urging of Humphrey Bogart, who wanted him to work on the TV version of 'The Petrified Forest'. Knowing Bogart helped raise Dunne's stock and give him access to many of the reigning stars, powerbrokers, and celebrities in Hollywood. It was heady stuff for Dunne who began to take photos at many of the dinners and parties he either attended or hosted at his beachside home in Santa Monica (and later in Beverly Hills, where he had moved his family). One of Dunne's neighbors in Santa Monica was the actor Peter Lawford who had recently married Patricia Kennedy, one of the sisters of the future President of the United States, John Fitzgerald Kennedy.

I so enjoyed reading this book and feasting my eyes on many of the photos which spanned from the 1950s into the 1970s. During those years, Dunne went from being a vice-president for a prominent TV production company to a producer for a number of films. Then his life unraveled in stages, he became divorced, engaged in a number of unhealthy habits - often making a fool of himself in the process, and became a pariah in Hollywood. Eventually, Dunne bottomed out and embarked upon a second career as a successful novelist and contributing writer for the magazine Vanity Fair.

I highly recommend this photographic memoir for any reader with a fascination for an era in Hollywood which witnessed the slow decline and end of the studio system and the emergence of a new world and morality during the 1960s. Dominick Dunne knew so, so many remarkable people (across Hollywood, high society and culture, and into the political realm - having been in at a few private parties where President Kennedy had been in attendance), including many of the Hollywood A-listers such as Henry Fonda, Rosalind Russell, the directors Billy Wilder and Vincent Minnelli, Lee Remick, Natalie Wood, Elizabeth Taylor (with whom Dunne later worked on a movie in Italy), and Richard Burton. I loved reading this book and almost wished I could have experienced some of the lifestyle Dunne knew during the late 1950s and throughout the 1960s.