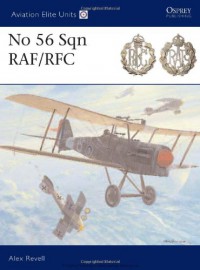 This wonderful book chronicles the development and flowering of No. 56 Squadron from its inception in the summer of 1916 to its deployment in France in April 1917, and on til the Armistice in November 1918.
Given its initial complement of highly experienced pilots (e.g. Albert Ball and Cecil Lewis, later to become one of the founders of the BBC and famous for his wartime memoirs, "Sagittarius Rising"), 56 Squadron within 4 months of frontline service had already been credited with 100 enemy planes shot down, and acquired a reputation among the Germans as a specialist "anti-Richthofen" squadron. (Manfred von Richthofen - the so-called "Red Baron" - was the top German ace and the leader of a squadron and fighter group that was the scourge of the British air services during 1917 and 1918.)
For anyone interested in First World War aviation, this book provides a well-rounded overview of one of the premiere fighter units of the war. Among the top pilots who were affiliated with 56 Squadron: James McCudden (like Ball, a holder of the Victoria Cross, Britain's highest award for bravery), R.T.C. Hoidge, Arthur Rhys Davids (a participant in one of the epic dogfights in history, credited with shooting down the great German ace --- and rival of von Richthofen --- Werner Voss), and Richard Mayberry.