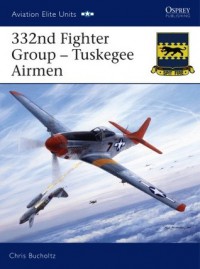 For all its 128 pages, "332nd Fighter Group - Tuskegee Airmen" provides a concise and comprehensive account of the United States Army Air Force's (USAAF) 332nd Fighter Group's outstanding combat record in Europe during the Second World War.

Prior to the 332nd Fighter Group's deployment to Italy in 1944, there was the 99th Pursuit (Fighter) Squadron. It was established in 1941 after the U.S. Army yielded to political and public pressure and allowed its creation to provide African Americans with the opportunity to fly and fight, refuting the then prevailing racist belief that African Americans were incapable of flying modern combat aircraft. This book goes into some detail in relating the obstacles placed before the 99th Fighter Squadron, both stateside and in its subsequent deployment in North Africa (April 1943), Sicily, and Italy flying battle-weary P-40 fighters.

The 332nd Fighter Group flew a variety of fighters in combat --- from the P-40, the P-39 Airacobra (mainly on coastal patrol missions in early 1944), the P-47 Thunderbolt, to the P-51 Mustang, which it used superbly in the role of long-range fighter escort to many of the bomber units in the 15th Air Force, USAAF. (The 332nd Fighter Group also earned a Distinguished Unit Citation for the 1,600 mile mission on March 24th, 1945 to Berlin, where it provided bomber escort for the 5th Bomber Wing and shot down 3 Messerschmitt 262 jet fighters.) This book also has a large number of photos and illustrations which any aviation enthusiast and model builder will love. HIGHLY RECOMMENDED.